Integrated global tracking, authoring, and archive
for Pharmacovigilance Agreements (PVA)
Template, Schedule, Author, Negotiate, Review, Sign, Track, Update
GREATER OVERSIGHT FOR GLOBAL PVA'S AND ACTIVITIES
See the big picture of your PVAs in a glance. With a single source of truth, allow compliance teams to review the organization's global PVA lifecycle in a summary view and dashboard.
GENERATE PVAs FROM TEMPLATES
Formalize PVA templates, and then automatically fill them with standard field data captured in the tracker. Author and negotiate around templates in parts, and then merge them into a single final agreement for approval.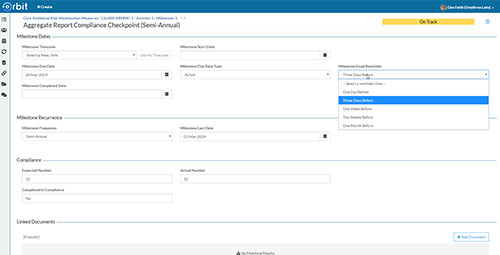 REDUCE BURDEN,
MINIMIZE DATA ENTRY
Reduce the burden of communicating around PVA authoring and review by providing stakeholders with up-to-date statuses when they need them, on-demand.

Integrate with existing Master Product Data lists, formalize terminology with field look-ups, and standardize the PVA creation lifecycle.
SEAMLESS NEGOTIATION WITH PARTNERS
Assign both internal and external PVA Managers and stakeholders from defined lists and set deadlines with notifications from standardized contact lists and domains.
---
"Our users have expressed a high level of comfort using the modules and the general feedback is that the system is easy to learn and use."
— Top 10 Global Pharma Client
---
Modernize the end-to-end PVA lifecycle with Orbit's
smart authoring, review, management, and tracking platform