The pharmacovigilance industry is locked in a race toward ever-more complicated signal detection algorithms. Cutting-edge technology like artificial intelligence, machine learning, and Big Data analytics is top-of-mind. While data science dominates the conversation, safety teams often overlook methods to optimize their approach to detection that do not require expensive data innovation programs. In this article, we list four pitfalls in managing & tracking Signal activities that can fall under the radar by Global Safety Teams, and practical ways to solve them.
1. Lack of core signal detection strategy
"Every product team handles signal detection differently." – Does this sound familiar? When every team operates independently, many opportunities are missed: global safety will struggle to gain insight on the performance of product teams, drive improvements across the organization, and manage safety for each product.
To avoid these pitfalls, global safety should define a core strategy (or strategies, depending on your needs) to use across the portfolio. This will provide structure and consistency to the global organization, while also giving the global team insights on how to improve processes across the board.
2. Rigid approach to detection strategy
While some teams suffer from a lack of strategy, others are overburdened with rigid catch-all strategy that allows little room for tailoring approaches to your product. Individual contributors have expertise that can only be earned through hands-on experience: these insights are extremely valuable, especially when they can be leveraged for other products. An ideal approach allows individual product teams to tailor core strategies to meet the needs of their product, capturing the process steps and KPIs in such a manner that it can be analyzed, optimized, and reproduced.
An equally important driver for tailored detection strategies is the wide range of surveillance that your products may require: an older generic with a well understood risk profile should not require the same vigorous monitoring as a novel CAR-T therapy. With a tailored approach, your product teams can provide the most appropriate set of surveillance activities.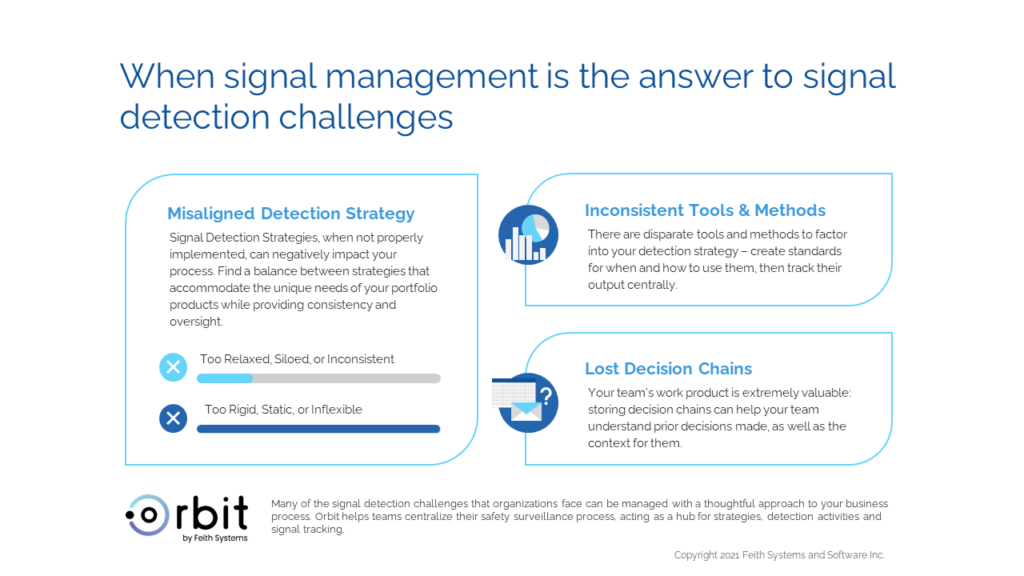 While data science dominates the conversation, safety teams often overlook methods to optimize their approach to detection that do not require expensive data innovation programs.

Download our infographic companion to this article
3. Difficulty managing detection across different tools and methods in your organization
In addition to diverse product needs, there are also disparate tools and methods to factor into your detection strategy. Not every automated detection tool will be effective for all of the work your teams perform. If you have separate signal detection platforms for different products (e.g., for therapeutic areas or legacy products from an acquired company), safety datasets, clinical datasets, external datasets, or more, then you are not alone. Understanding when to use each of these tools is vital for consistency and effectiveness of your signal detection programs. In addition to automated detection methods, your team likely has other channels or sources where manual review is performed: this can include CROs/service providers, literature database searches, line listings and more. Signal detection is not just a problem of data science, it's also about managing the activities across the board from vendor interactions, operational processes, and team-member expectations.
4. Lost Decision Chains
As your team's pharmacovigilance and signal detection strategies matures over time, the historical perspective and understanding of the algorithm deemed effective for analyzing safety data at that time can get lost. Your team's work product is extremely valuable: storing decision chains can help your team understand prior decisions made, as well as the context for them. Without this data, you risk re-work and overlooked insights.
This organizational history is stored in a variety of places – including work instructions, MedDRA query lists, meeting minutes, notes, emails, spreadsheets and more. How many places would you need to look today to find the answers data? Having this information at your fingertips is a valuable resource for ensuring continuity, and thoroughness when performing detection activities.
Orbit has a better way
We understand that many of the signal detection challenges that organizations face can be managed with a thoughtful approach to your business process. Orbit's holistic Safety Surveillance management suite helps companies establish a set of core strategies for adoption in signal detection activities while giving teams the ability to tailor them to individual products. With Orbit, your team will gain unprecedented insight into the end-to-end process, proactively identify areas for improvement, and act on innovative approaches.
Orbit helps teams centralize their safety surveillance process, acting as a hub for strategies, detection activities and signal tracking. We centralize an infamously siloed process, allowing for broader oversight and access to your organizational history while gaining insight into enterprise-wide productivity and quality.